Like any marketing plan a multichannel marketing plan, to be successful, needs to follow the channel preferences of the targeted market.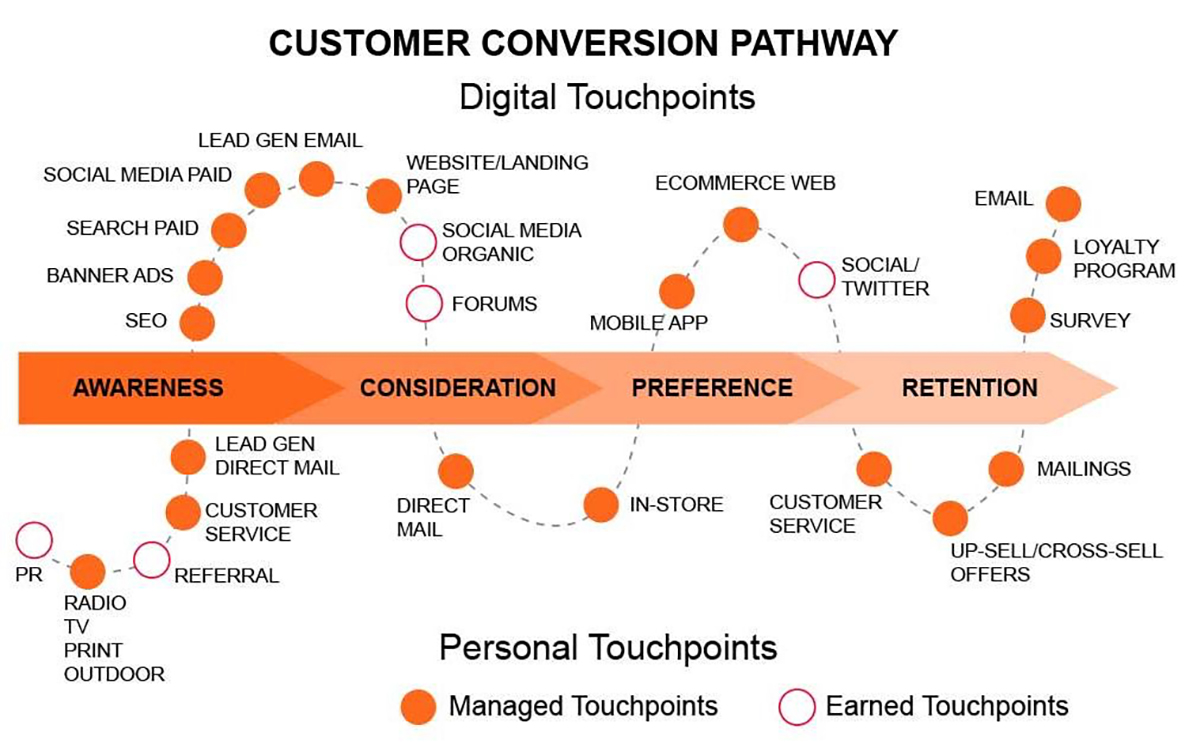 Multichannel marketing refers to the practice of interacting with customers (B2B and B2C) using a combination of indirect and direct communication channels – websites, direct mail, email, mobile, apps, social media, Google search to name a few – and enabling customers to take action in response – preferably to buy/enquire-about your product or service – using the channel of their choice. In the most simplistic terms, multichannel marketing is all about choice.
How many channels is multichannel?
MindWorks Customer Conversion Pathway visual above illustrates the complexity facing today's marketers with a proliferation of digital and personal channel opportunities littering the path to a customer conversion and ultimately a loyal advocate.
There are many sources which say you need between 5 and 20 touchpoints across multichannels to make a sale. 20 touchpoints definitely suggests a considered buying process and thus the need for consistent content across all marketing channels - but what about sales which close in 5 touchpoints?
The thing is, not only does everyone's definition of a touchpoint differ, but the number of touchpoints you need to make a sale varies widely depending on your business.
For example, it's going to take fewer touchpoints to convince someone to buy a burger from a franchise than it would to convince them to buy the franchise itself.
20 years ago the average consumer typically used two touch-points when buying an item and only 7% regularly used more than four. By 2015 consumers/business-buyers use an average of almost six touch-points with nearly 50% regularly using more than four.

Establish a multichannel marketing platform
You may have heard the saying, "If all you have is a hammer, everything looks like a nail." The concept certainly applies to marketing, and that's why it's so important to establish a multichannel marketing platform. And by "multichannel marketing platform," we mean one that includes processes and technology to support:
Campaign management, including capabilities for segmentation, workflow creation and campaign execution.
Advanced analytics, including response analytics (ie Google Analytics and ESP dashboard) and campaign optimization.
Advanced execution, including capabilities for content management, event triggering, real-time decision making and next-best-offer management for both inbound and outbound marketing programs.
Response attribution, including the ability to perform marketing mix optimization, scenario planning and marketing attribution analysis.
Digital marketing, including capabilities that expand marketing beyond traditional channels to newer channels, including the Web, email, mobile, video, blogs, search etc.
By establishing a multichannel marketing platform, you will be able to integrate traditional and emerging channels. You will also greatly simplify the creation and execution of cross-channel campaigns by enabling marketers to create, in essence, a single campaign that can be replicated across various channels. And all this puts the holy grail of marketing within your grasp – reaching the right person with the right offer through the right channel at the right time, while reducing costs and improving the effectiveness and performance of your marketing efforts.
Create consistent customer experiences across all channels
Customer experience is one of the most powerful competitive differentiators. And while the quality of the customer experience is important, consistency is equally important. That's because your customers experience your brand as a whole, whether their interactions with you are online, in a store, over the phone, or some combination of these. What value is there in a positive online experience if a customer's in-store experience is negative? If you treat each channel as a distinct entity, you run the risk of turning customers against you if you fail to deliver consistency.
Identifying the right mix
Building compelling stories and personal connections requires empathy for your audiences. Map out how they engage with media over the course of a day. Identify the information they want and the information they need to create a meaningful change. Understand how they feel as they are seeking this information, when they tend to look for it, in what form they like to receive it, and where they go to get it. Your channel mix should mirror the audience preferences you have identified, so your interactions are not forced or irrelevant.
Natural channel pairings for progressive storytelling complement this human-centric engagement strategy.
Test and Learn
Next, learn by doing and by measuring. Set your measurement strategy early. Clearly define your indicators of success. Choose appropriate attribution models. Establishing control groups will enable you to evaluate the impact, calculate the ROI by audience segment and channel, and optimize your ongoing and future campaigns.
IS MULTICHANNEL MARKETING WORTH ALL THE EFFORT?
The short answer is yes.
The following retail case study demonstrates that even at the very entry level, integrating just two channels, the results speak for themselves… Here's the test design. Some of the audience of the retailer received only an email (the control group), others were served Facebook ads (custom audience), but the interesting group are the combined 16% who opened emails and saw Facebook ads (just two touchpoints).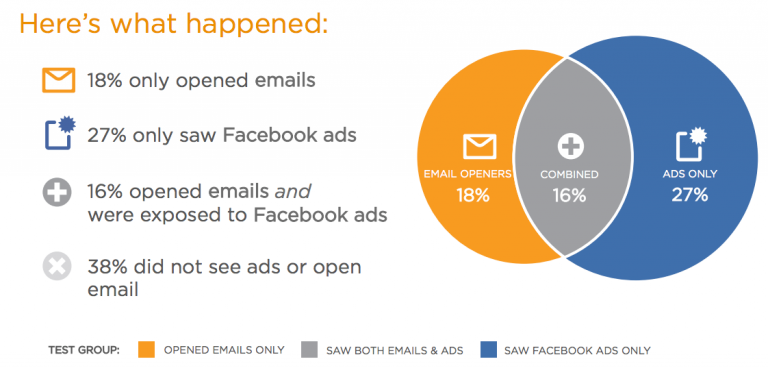 The results:
Those on the Email list who saw Facebook ads too, were an impressive 22% more likely to purchase.
When reached with Facebook ads, email openers were 8% more likely to click on email.
Facebook ads extended email reach by 77%.
So where should marketers start?
Most businesses and small marketing teams will have a Marketing Plan and maybe a Digital Marketing Plan so combining them is really the first step.
If your not sure where to start the following could be used as a guide.
A study of SME's by Experian placed various channels in one of three categories:
Greeter (creating brand awareness)
Influencer (generating interest), and
Closer (getting the sale).
According to Experians 2014 Digital Market Trends Report, the top channels for creating brand awareness (Greeter) were:
Search marketing: 43%
Online display ads: 42%
Social display ads: 40%
Social media (not paid): 38%
Email: 25%
Print advertising: 37%
Top channels for generating interest (influencer) were:
Email marketing: 49%
Social media (not paid): 44%
Online display ads: 35%
Print advertising: 33%
Social display ads: 33%
Top channels for getting the sale (closer) were:
Website (ecommerce): 42%
Email marketing: 30%
Direct mail: 20%
Mobile apps: 20%
Search marketing: 17%
The study also found that half of the global multichannel SME marketers surveyed planned to integrate four or more channels in their marketing campaigns in the following year.
TAKE THE next step
Create and capture measurement criteria of actual outcomes currently being achieved from existing marketing activity, Attribute to actual channel.
Researching customer attitudes to gain additional insights to help support channel selection - try an online survey.
Remember: the creative message and value proposition are important too!
Start small, for example, support an email campaign with some Social Media or Web Banner remarketing on Google AdWords.
Then test and measure, measure, measure.
---
Drive more leads, Convert more sales

MindWorks Multichannel services include Full Service Creative Agency, Planning, Strategy, Campaign Management and Analysis, Digital (email, ecommerce websites and microsites) Marketing, Google AdWords Marketing, Direct Mail Marketing, Direct B2B Sales Team Support, Direct Response Advertising, Data - Lead Generation list
The MindWorks difference
MindWorks Data. Digital. Direct. Social experience has proven that only 'best practice' Direct Marketing – the merging of Intelligent Data insights with Relevant and Engaging creative, a mapped multi-touchpoint Customer Conversion Pathway across mobile, web, social, mail, search, phone and traditional media - that follows a Measurable implementation strategy can equip marketing teams to build loyal relationships with their customers and a sustainable lift in results …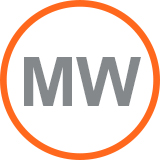 Contact MindWorks today and lift your Direct Marketing results.
Call 02 9299 3300 or Email: camerons@mindworksmc.com.au