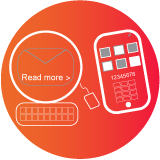 MindWorks creates, personalises, automates, integrates and optimises Email Marketing campaigns customers cannot ignore!
Research findings overwhelming demonstrate the benefits of Email Marketing in both B2C & B2B marketers digital channel mix. With 89% of marketers considering their email strategy is successful and 87% enjoying performance improvements - Email Marketing is a proven performer.

Email Marketing That's Relevant and Engaging
Relevant and engaging emails influence behaviour, build brand reputation and meet business ROI. MindWorks creates emails that drive response by aligning creative messaging to customer insights and data. MindWorks Email Marketing services include:
Personalisation
From increased transaction rates to email opens, personalisation has proven to lift results. MindWorks experience with leading Email Platforms and CRM Systems including Salesforce, Oracle, NetSuite allows data rich brands to maxmise deeper personalisation, through dynamic content, further lifting results.
Automation
Lead nurturing Email Marketing Automation seamlessly deploys sophisticated sales funnels and lifecycle marketing journeys with customer engagement and conversion opportunities at every stage of your relationship. Automated email strategies allow marketers to welcome, reward, thank, update, and offer the right customers, the right message at the right time.
Mobile Friendly
Research tells us 52% of customers are less likely to engage with a brand because of a bad mobile experience so marketers emails must look great on any device - desktop, tablet and particularly mobile.
Integrated CRM
We'll work with you to integrate Email Marketing results regardless your preferred data-capture method. We're expeienced in the key enterprise CRM platforms and other email platform Subscriber based tools.
Email Lists
With access to 230,000 key B2B decision-makers and over 11 million individual consumers in A&NZ. MindWorks is well-positioned to pinpoint the right email list match for your product/service offering.

Engaging Creative
MindSearch® is a proprietary three-stage Strategic Creative process aimed to identify the most compelling Creative Idea. The Creative Idea results from aligning the customers 'nagging need' and the key product benefit delivering targeted communications that lift results through better customer engagement.

eNewsletters and Digital Collateral (Content Creation and Curation)
MindWorks writes, creates and implements eNewsletters, Blogs, Case Studies, Infographics, Surveys and other offer driven collateral.
Our cost effective approach to Content Curation and Creation ensures your email marketing strategy - whether automated/trigger or campaign specific - delivers relevant, engaging, sharable, responsive and valuable content to customers/subscribers when they request it or show interest.
Extending content across multichannels ie Social Media, helps maintain customer 'stickness', reduces churn and can organically grow your databse and brand at a very low cost.
see Email Marketing Case Studies

Contact MindWorks today and lift results with your Email Marketing.
Call 02 9299 3300 or Email:

hello@mindworksmc.com.au