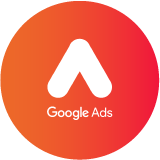 MindWorks plans, builds, executes, remarkets and optimises Google Ads so your products and services are seen by qualified customers at the very moment they're searching on Google
Whether you're looking to bring in new website visitors, grow online sales, get the phones ringing or keep customers coming back for more, Google Ads is a cost-effective way of ensuring your brand is listed on Google Search, Display or Google Shopping when almost any selected keyword phrase is searched.

Generate more qualified leads online
With approximately 70,000 search queries every second, ensuring your brand has optimal placement in search results requires a consistent and professionally managed Google Ads campaign.
MindWorks will optimise your Google Ad so your business gets found by people precisely when they're searching for the things that you sell.
Google Search Ads
Google Ads drives leads to your business. MindWorks expertise and performance focus creates targeted Search ads that appear next to Google search results when people look for products and services that you offer. And best of all, you only pay Google when people click to visit your website or call your business.
Google Display Network
Display Ads (or web banners) allow brands more 'visual' engagement with customers and drive faster consideration to take action! MindWorks insights into specialised targeting options - keywords, interest, customer lists, demographics and remarketing - will grow your brand awareness and lift customer conversions.
Google Shopping
Shopping Ads are more than just a text ad–they show customers a photo of your product, plus a title, price, store name, and more. MindWorks creates Google shopping campaigns that promote your online and local inventory, boost traffic to your website/eCommerce or local store, and find more qualified leads.
Remarketing
Remarketing shows Google Ads to people who've visited your website, used your mobile app or customers on your lists. Research shows Remarketing increases conversions. MindWorks experience in optimising remarketing campaigns ensures your brand reconnects with visitors or existing customers by showing only relevant Ads across all devices.
Video Ads - Youtube
With 1 in 2 Australians using YouTube in makes sense to broadcast your brand story. Video Ads are shown on the YouTube network only to the people that you want and you only pay Google when they watch. MindWorks will set up your campaign so you won't waste money advertising to people who aren't interested in your brand.
Reporting
MindWorks insightful Google Ads reporting takes the guesswork out of advertising. Each month we'll show you how many people are shown your ads, visit your website, clicked on conversion links, called your business and much more. We'll use these learnings to improve performance and maximise your business objectives.
see Google AdWords Case Studies
Download a free Google Ads Strategy and Implementation guide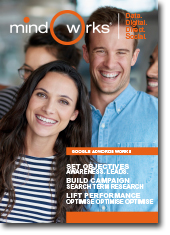 Generate Qualified Leads Online
Increase your website's digital footprint through disciplined pay-per-click Google Adds search engine marketing. Start attracting new customers today!

Contact MindWorks today and increase your website traffic, grow online sales, get the phones ringing and keep customers coming with Google Ads.
Call 02 9299 3300 or Email:

hello@mindworksmc.com.au