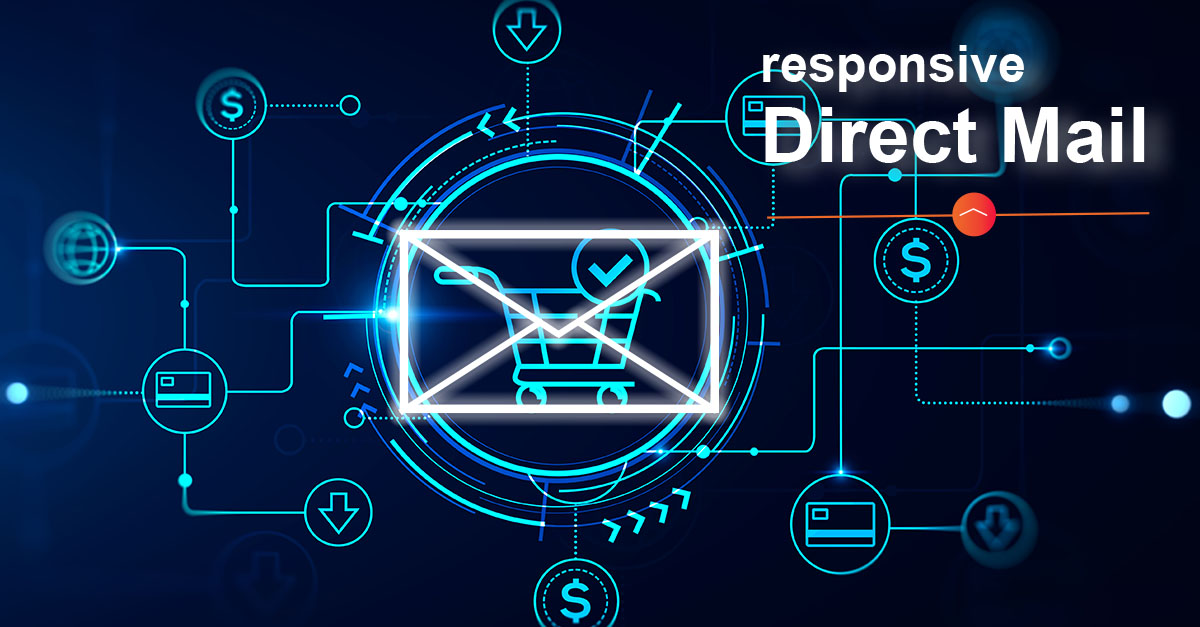 Yep, Even Digital Companies Use Direct Mail Marketing
Direct mail has long been an important channel for traditional companies, but it turns out that it's also vital in helping digital and ecommerce companies grow as well. Brands that use direct marketing — whether they make cars or sell services and products online — are proving that this is a vibrant medium.
With so many digital marketing channel options, marketers want to stand out from their competition, whether as a stand-alone channel or part of a multichannel marketing strategy.
In fact, according to the 40th Edition of the Data & Marketing Association (DMA) Statistical Fact Book 2018, recipients of direct mail find it a compelling and responsive medium.
Here are a few examples:
Google
No list of digital companies is complete without mentioning Google. Mail has been a part of Google direct marketing for over 15 years, and it's stayed remarkably consistent. The tech giant uses lots of white space, an important direct mail practice. These direct mail packs range in time from recent, mailed in February 2020, to 2003. So while the design has changed the channel hasn't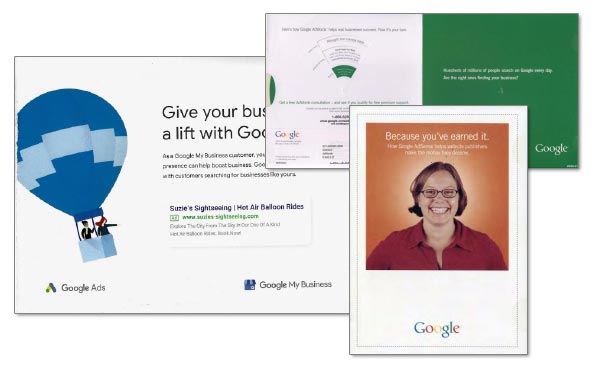 Amazon
The retail giant — and tech revolutionary — sells millions of products as well as serves as a marketplace for many companies of all kinds. Amazon direct mail, though, carefully focuses on some key areas that build loyalty. For example, in 2020, it is mailing a holiday catalog that also includes fun activities for kids like puzzles, coloring pages, and stickers while also selling toys - perfect when you can't actually travel.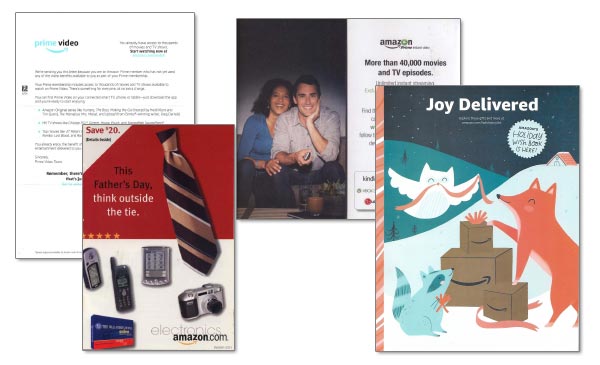 LinkedIn
Digital companies mail is often about making it as easy as possible for a customer to understand how the online tool works. That's the case here, part of a tri-fold insert in this January 2020 campaign from professional networking service LinkedIn: the company adds the step-by-step process of posting a job..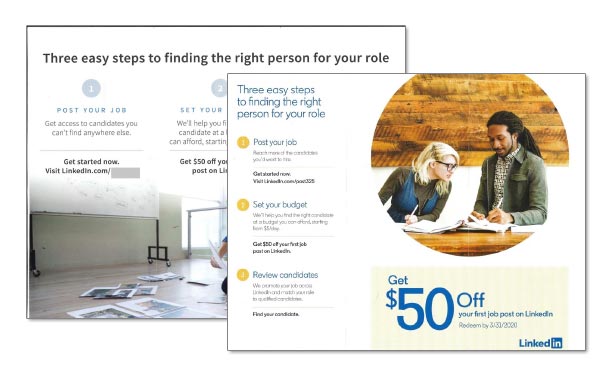 Booking.com
In August 2020, the travel website sent a postcard, one of the most effective direct mail formats, to its past customers with a 10% discount - for US destinations - on the opposite side. Like the touristy postcards you see when you're traveling, it's only missing a "Having a wonderful time — wish you were here!" message.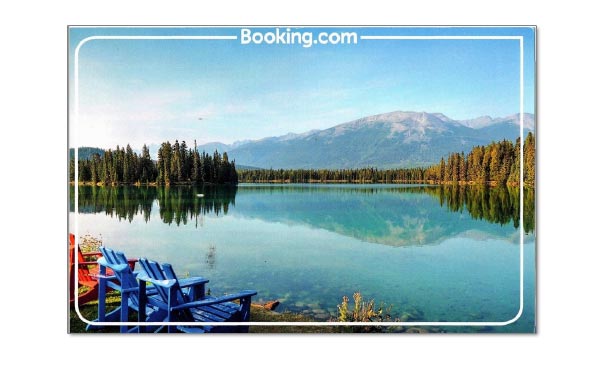 Uber
COVID-19's impact on direct mail marketing includes a new emphasis on supporting local brands including restaurants. In July 2020, Uber Eats mailed this effort that appeals to that impulse. SImply using the app, the mailer offers up to 40% off the first 2 orders. It also includes a QR code taking the customer to the website if they don't wish to download the app beforehand.
Uber has used direct mail in its marketing mix for years. For example, this postcard was mailed in 2015 as it marketed its ride service (with an intro discount) in different areas of the U.S. Its design is minimalistic, with no bright colors or images, unlike the later food-oriented mailer. Whatever service it is selling, Uber is committed to the simplicity of postcards paired with a discount.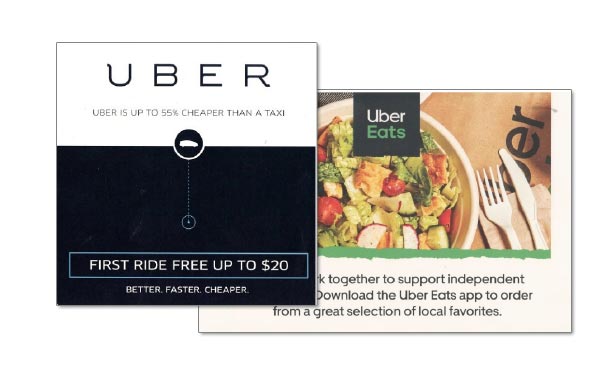 Square - Mobile Payments
These mailing from the mobile payment provider Square were sent out in 2013 and 2020. They focuses on the ways a merchant can sell while using Square software.
As markets mature messages change. This is evident comparing these direct mailers. Seven years back, in one of its 2013 folded self-mailers, Square describes and illustrates how to use its card reader with an image and several short paragraphs.
However, by January 2020, the message focuses on a single key benefit described on one side of its own self-mailer with very simple captions (Get-Paid-Fast) .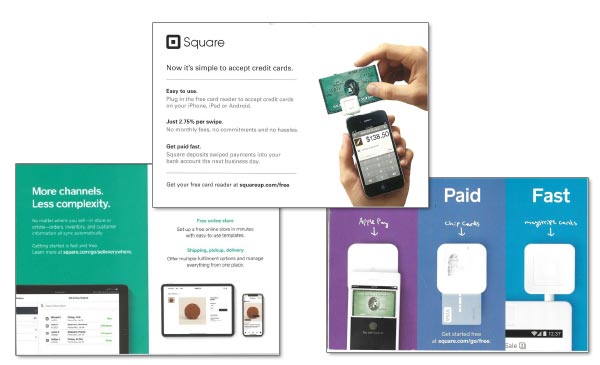 Adobe
How do you get graphic designers to renew an expired subscription (if they are not on auto-renew)? That's a challenge met by Adobe, which mailed this letter in January 2020, reminding users why they subscribed in the first place — and may have missed using. It also offers an exclusive price for students and teachers, showing the benefits of personalising direct mail to match data segments.
When using envelopes for the retention stage, the company sticks to another format when it comes to product promotion. Adobe boasted of helping customers to "make a big impact". And with the very large type, this postcard uses white space very effectively in an acquisition campaign from 2010 for its Photoshop products.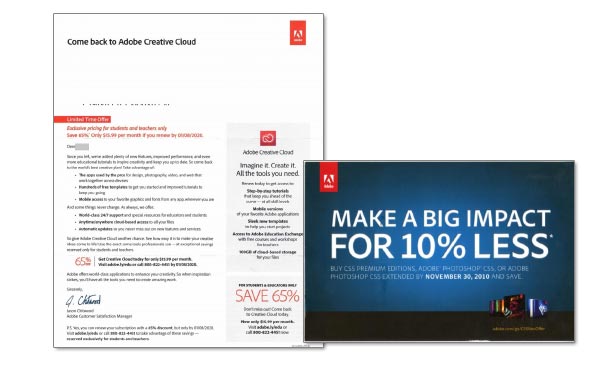 PayPal
Instead of a traditional credit card, the online payment system PayPal offers a reusable credit line good for making purchases on many websites and apps. The letter here looks like most credit card direct mail acquisition efforts, but from applying to approval and fulfillment, it's entirely on the web, and super fast.
Earlier – way back in 2010 – PayPal regularly mailed postcards. This one has an intriguing headline, leading small businesses to compare themselves to their larger competition.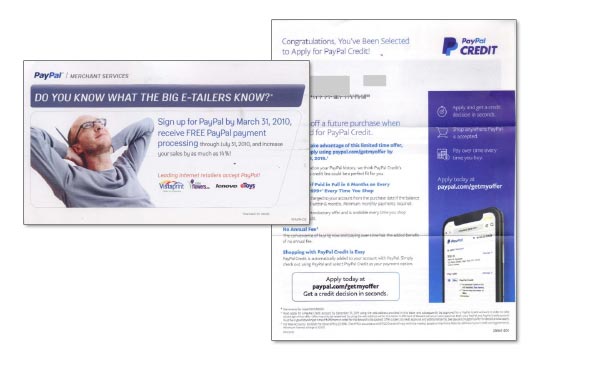 ---
DIRECT MAIL MARKETING LIFTS RESULTS

MindWorks Direct Mail services include Communication Planning and Strategy, B2B Specialists, Full Creative Service, Full Print Production and Mailhouse Management for bulk personalised mail, Letterbox drop, Catalogues, Fulfilment, Dimensional, Postage and inbound Reply Paid handling and more
Lift Your Direct Mail Response
The MindWorks difference
MindWorks Data. Digital. Direct. Social experience has proven that only 'best practice' Direct Marketing – the merging of Intelligent Data insights with Relevant and Engaging creative, a mapped multi-touchpoint Customer Conversion Pathway across mobile, web, social, mail, search, phone and traditional media - that follows a Measurable implementation strategy can equip marketing teams to build loyal relationships with their customers and a sustainable lift in results …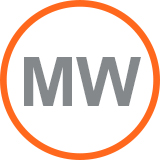 Contact MindWorks today and lift your Direct Marketing results.
Call 02 9299 3300 or Email: hello@mindworksmc.com.au