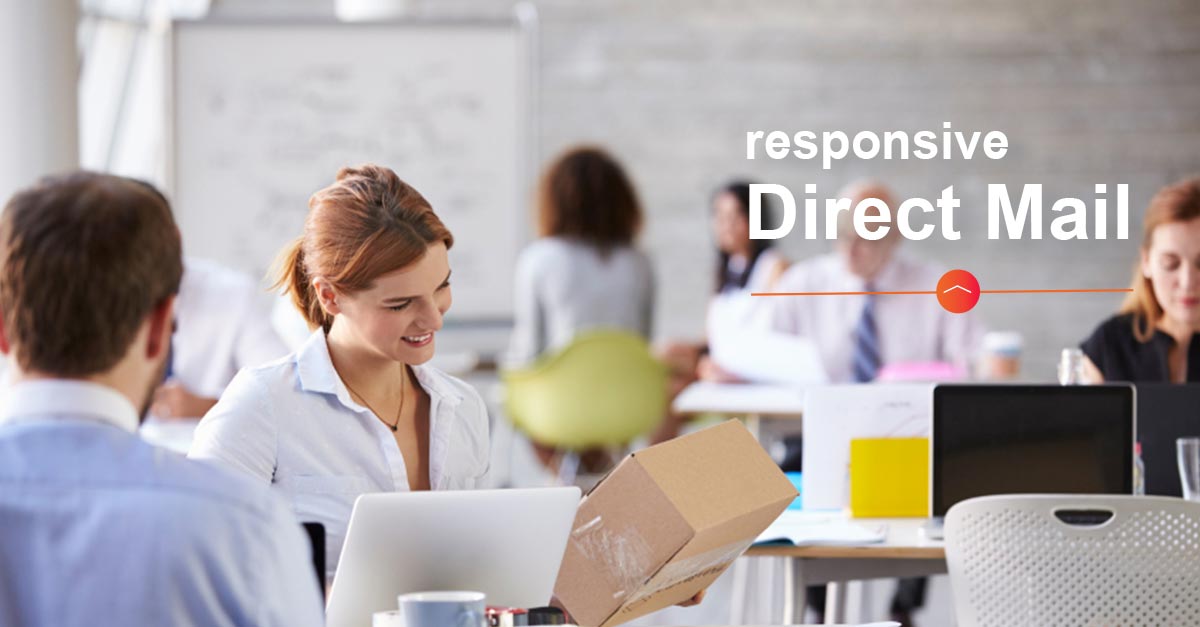 B2B INSPIRED BY THESE D&AD AWARD WINNING B2B DIRECT MAIL PACKS
At MindWorks we love Direct Mail. Why? Direct Mail is a top tactic to engage with marketers hottest prospects.
It's a great way to grab people's attention, even if only for a few minutes, which can be HUGE compared to constant noise of online interactions.
With direct mail, marketers get to have their product front and center, and provide a tangible reminder of who they are. Plus, who DOESN'T like getting cool, unique packages at work?
We've compiled a few award winning (thanks D&AD Awards) to help get you inspired. Enjoy
Together Sweater - B2B Direct Mail pack
Inspired by the generosity at the heart of the collaboration between Target and Toms, Mother New York found a playful way to literally bring people together in the spirit of giving.
The Together Sweater is designed to fit multiple people, and was sent to friends of Target and Toms to help promote the message of togetherness.
Celebrities including Victoria Justice and Meghan Trainor cozied up in their sweaters and shared the joy online, creating a contagious cultural moment around the partnership.
1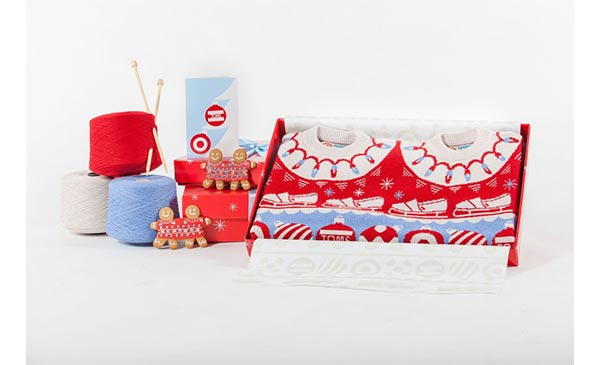 Air Force - B2B Direct Mail pack
George Patterson Y&R Melbourne created a dedicated Air Force radio station, playing Defence Force Recruiting's radio ad on loop. But before you could hear it, you had to build a radio.
University engineering students were sent packs with everything they needed to construct an FM radio. Except one thing, instructions. Candidates proved their problem solving skills; wiring, soldering and assembling the radio.
Once complete, students tuned to Air Force FM, our radio station created for this campaign. The radio ad instantly offered successful students a fast track to an exciting career.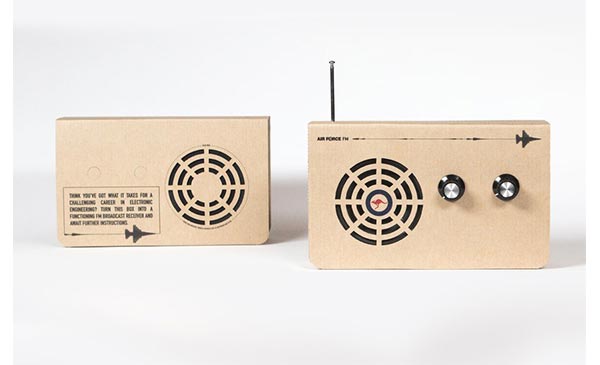 Party Invite - B2B Direct Mail pack
To build hype around WVRST's grand opening, TAXI2 Canada hand-delivered t-shirts packaged as sausages wrapped in butcher paper.
This direct mail piece invited food critics, bloggers and other cultural influencers to what TAXI2 Canada dubbed "the sausage party". The shirts were printed with the same humorous artwork from the WVRST posters of adorable animals being put through a meat grinder.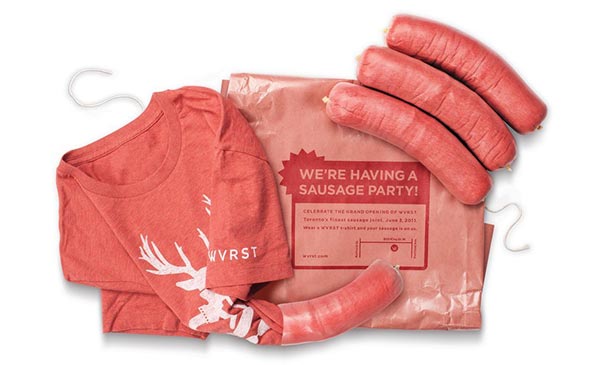 Chunky - B2B Direct Mail pack
To communicate the chunkiness of Kit Kat Chunky and drive trial, JWT London created a mailer that looked just like the card postmen leave behind when they're unable to deliver a package.
The real card often states that the package couldn't be delivered because it was 'too big for your letterbox'. JWT London tongue-in-cheek card claimed that we couldn't deliver a Kit Kat Chunky because it was 'too chunky for your letterbox'.
Recipients were directed to collect their free Kit Kat Chunky from their local newsagent.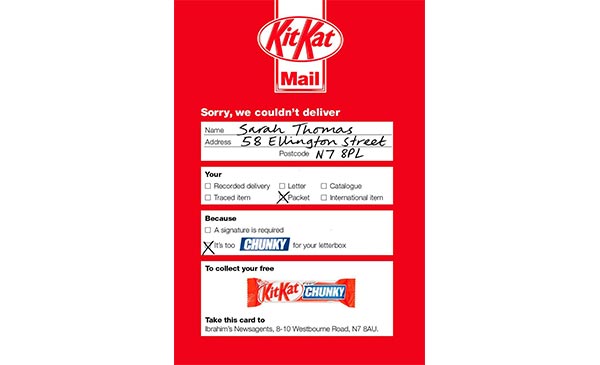 Musical - B2B Direct Mail pack
To make Saxsofunny the most well-known sound production company that produces advertising campaigns, DDB Brasil wanted to engage creative people in the market and create buzz.
The target was Saxsofunny clients and prospects that had never experienced the company's services.
The solution was to create cases for imaginary musical instruments conveying the message 'we play the sound you need', and reinforcing the idea that Saxsofunny complies with any client's sound needs. Inside the instrument's case was the company's portfolio, showing its vast experience in advertising campaigns.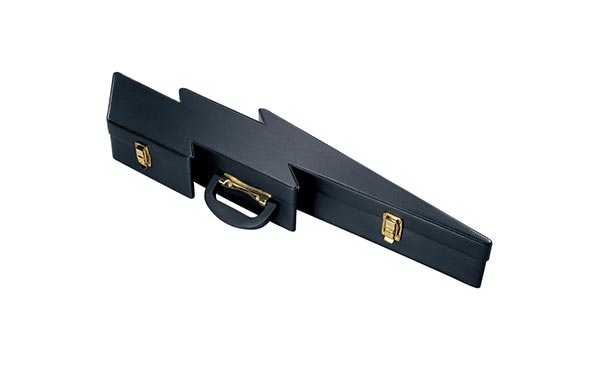 Trillion Dollars - B2B Direct Mail pack
The Zimbabwean Newspaper, forced into exile, was then slapped with a 55% luxury import duty, making it unaffordable for Zimbabweans. To raise awareness of this issue, TBWA\Hunt\Lascaris, Johnannesburg, developed an unusual solution.
The most eloquent symbol of Zimbabwe's collapse is the Z$ trillion note, which cannot buy anything and certainly not advertising. But it can become the advertising.
TBWA\Hunt\Lascaris turned the money into the medium by printing our messages straight onto it. They made flyers and direct mailers out of the worthless money. Overnight, Zimbabwean banknotes achieved what they'd never been able to buy – advertising coverage. The Zimbabwean Newspaper used Mugabe's own creation against him.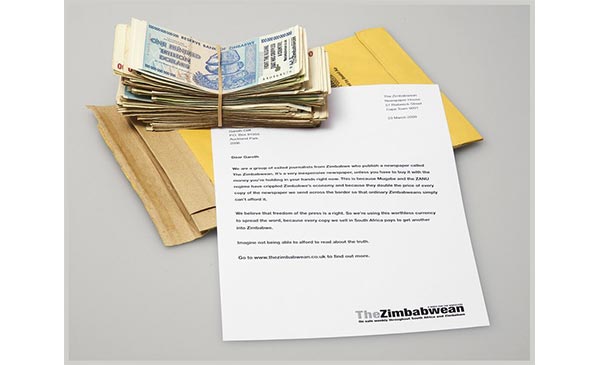 20 Years - B2B Direct Mail pack
Schott Solar produces solar panels with 20 years' warranty. In order to present the Schott Solar brand in a distinctive and meaningful way to wholesale markets, Saatchi & Saatchi created a 20-year warranty calendar, which sticks out over 60cm from the wall. A message which can hardly be ignored.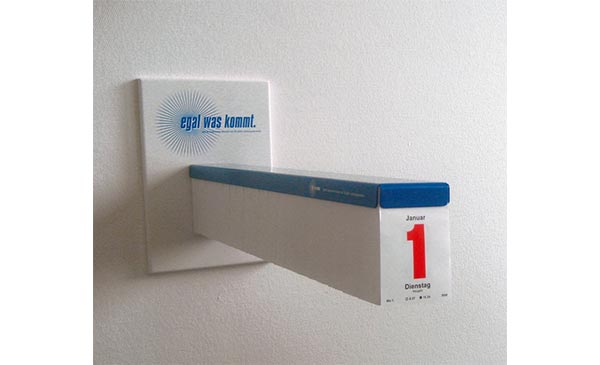 Charity - B2B Direct Mail pack
The idea, using string and button envelopes, was a powerful visual demonstration of the message. By untying the string, individuals freed the noose around the victim's neck. This simple act drove home the point that saving lives was that easy.
And that everybody had the ability to save lives.
Inside the envelope was a brochure containing contact details for those who wanted to know more about volunteering with CrisisLine and additional information on this non-profit organisation..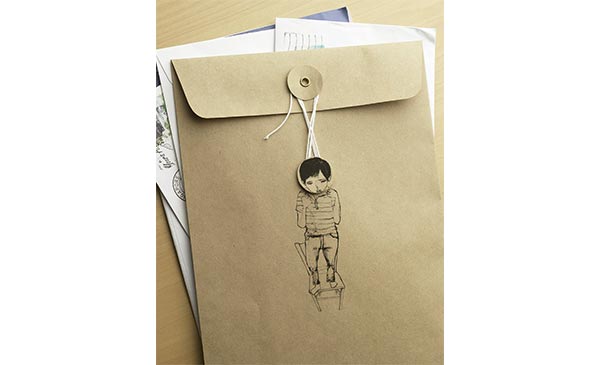 Museum - B2B Direct Mail pack
The Natural History Museum needed to produce a cost-effective direct mail piece that would raise awareness of the talks at the Darwin Centre.
The eraser, produced as direct mail, puts the issue of extinction literally in the palm of your hand.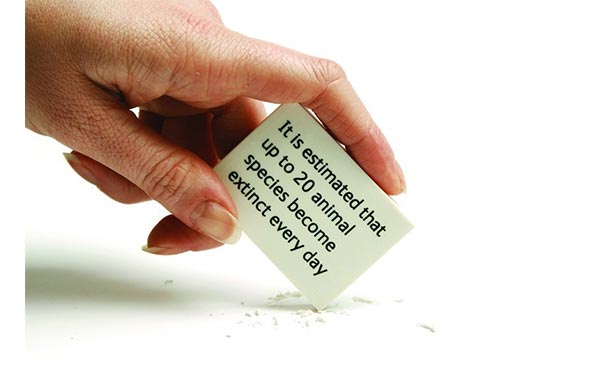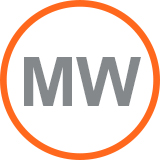 A Couple Of Our Own*
While not award winning all of MindWorks curated B2B Direct Mail packs worked hard for their brands and delivered a lift in results.*
The Whole Picture - B2B Direct Mail pack
Research identified 'avoiding risk' was a critical issue for large organisations, particularly in relation to regulation. CCH Subscription based Legislation Services delivered certainty as changes were advised to subscribers in real-time (as they are taking place in parliament(.
MindWorks creative solution proposed 'see the whole picture' and avoid the risk.
The resulting creative demonstrated the solution through brand transparency (see-through envelope) and a 'swiss-cheese holed' diecut brochure cover reinforced the importance of 'seeing the whole picture'.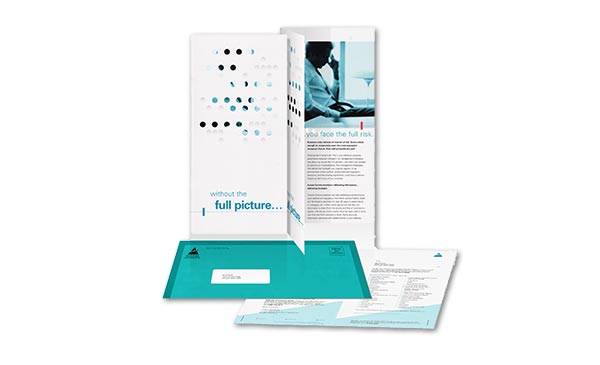 Hero - B2B Direct Mail pack
For Canon business solutions, often the key influencer recommendation is critical to persuade the decision maker to approve a sale. MindWorks creative solution singled out key influencer as an unsung hero… offering them a chance to be acknowledged as the company hero, but first they'd have to "start a revolution".
A 3D Direct Mail (with personalised T-Shirt enclosed) achieved initial cut-through, highlighted SAAS product benefits while advising the Influencer would be acknowledged as the HERO by finance and IT through performance improvemnts and lowering costs.
The T-Shirt was worn with pride.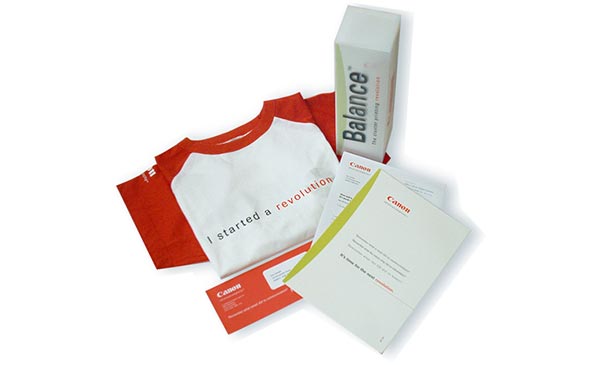 Abracadabra - B2B Direct Mail pack
With today's IT business storing ever increasing amounts of data, retrieving and sharing files in realtime needs a powerful server or in large scale network-attached storage (NAS).
Research identified a key challenge faced by Hitachi being IT departments concerns about compatibility and ease of instalment and use.
MindWorks creative solution 'You don't have to be a magician' suggested Hitachi had removed all these challenge away. The inclusion of a pack of playing cards guaranteed some office conversation amongst colleagues. Poker anyone?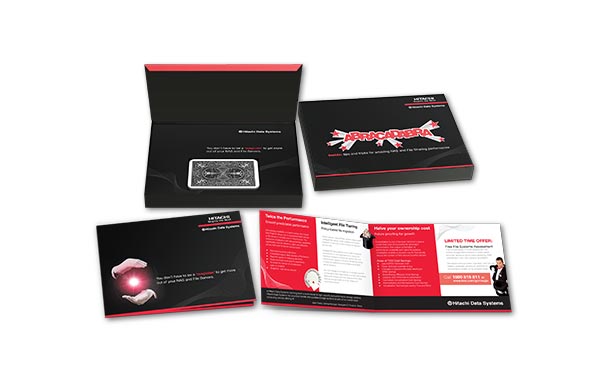 ---
DIRECT MAIL MARKETING LIFTS RESULTS

MindWorks Direct Mail services include Communication Planning and Strategy, B2B Specialists, Full Creative Service, Full Print Production and Mailhouse Management for bulk personalised mail, Letterbox drop, Catalogues, Fulfilment, Dimensional, Postage and inbound Reply Paid handling and more
Lift Your Direct Mail Response
The MindWorks difference
MindWorks Data. Digital. Direct. Social experience has proven that only 'best practice' Direct Marketing – the merging of Intelligent Data insights with Relevant and Engaging creative, a mapped multi-touchpoint Customer Conversion Pathway across mobile, web, social, mail, search, phone and traditional media - that follows a Measurable implementation strategy can equip marketing teams to build loyal relationships with their customers and a sustainable lift in results …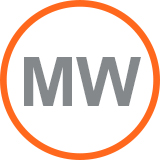 Contact MindWorks today and lift your Direct Marketing results.
Call 02 9299 3300 or Email: camerons@mindworksmc.com.au