Direct Mail, Landing Page, Interactive Sales Support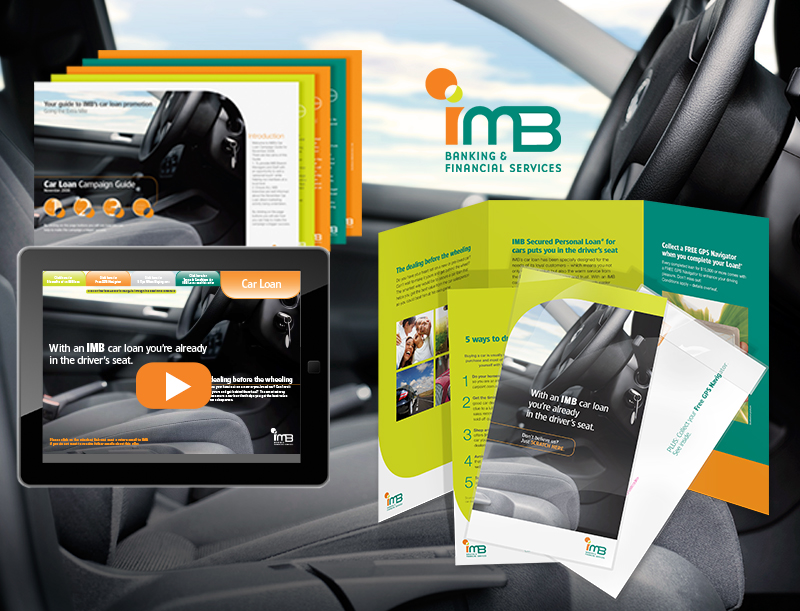 Proven Strategy
Having identified from historical data traditional show a high transaction periods for personal loan products IMB looked to MindWorks to build leads in the non-traditional months. Further data analysis indicated that car loans amongst certain age groups where the most likely to respond to an offer so MindWorks Direct Marketing strategy needed to cut-through in a very competitive marketplace and drive loan applications outside traditional personal loan periods.
Customer Pathway
A personalised Direct mail pack focused on the one element ALL new car owners love - the new car smell. A scratch and sniff panel of real leather lifted curiosity to open DM pack. A further incentive to contact initial application criteria drove appointments through a dedicated landing page. Branch Managers were armed with a interactive PDF that 'honked' and 'started the engine' when recipient clicked ensuring the desire to own that new car was top of mind.
Improved Results
Branch Managers equipped with collateral to improve conversion with follow up calls to applicants the data segmentation and creative worked hard.
Contact MindWorks today

and lift your results.


Call:

02 9299 3300 or

Email:

hello@mindworksmc.com.au