Direct Mail, Direct Response Advertising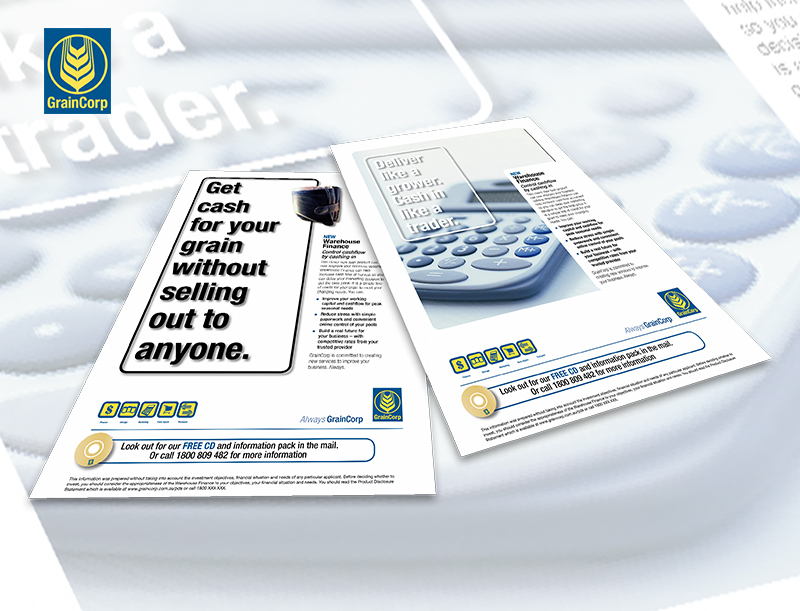 Proven Strategy
Once Growers grain is warehoused they can sell now or hold-out for better grain prices later in season. But with cash tight and bills mounting growers need some cashflow to get them through. GrainCorp Warehouse Financing fills this gap. To emphasis the competitive rates - making GrainCorp a real option to the Banks - a 'Sell or Hold' calculator was sent to Growers on CD so they could compare grain volumes and rates. The creative proposition aimed to put the Growers first and was brought to life through crafted headlines including 'Deliver like a grower, cash in like a trader'.
Customer Pathway
A information Direct Mail pack included the 'calculator' CD (download are slow in many rural areas) and other benefit laden information - was sent to growers with rural press Direct Response Advertising building awareness of the Direct Mail packs imminent arrival.
Improved Results
Growers reported the CD a huge success as they could make their decisions before they reached the grain silo facilities minimising their confusion and stress.
Contact MindWorks today

and lift your results.


Call:

02 9299 3300 or

Email:

hello@mindworksmc.com.au