Direct Mail, Email, Landing Page, Direct Response Advertising, Sales Collateral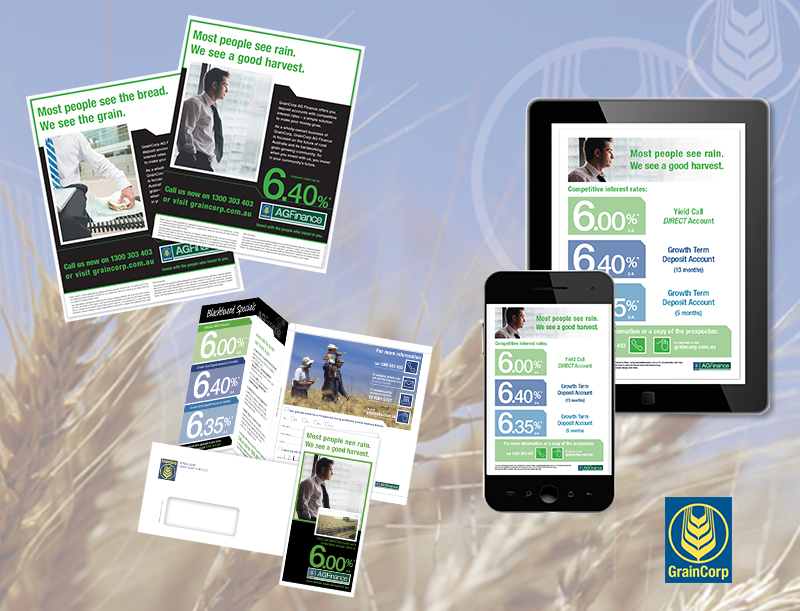 Proven Strategy
Grain growers traditionally deposit their seasonal income with large banks. An opportunity to offer a customised Bank Note deposit facility that returned profits to the grower twice (once as income and secondly as shareholders) was launched. A key challenge was convincing growers their hard earned savings would be well rewarded. The proposition highlighted one unique difference GrainCorp had - an intimate existing relationship with the product. This was illustrated through creative headlines including 'Most people see the rain. We see a good harvest'.
Customer Pathway
A Direct Mail pack was sent to all shareholders to launch the product and where available an Email also sent. Direct Response Advertising in major Rural Press supported the launch. Growers could visit a Landing Page or call Head Office to request a Prospectus sent.
Improved Results
Over $24mill in funds raised for the launch of the farmers fund in the 1st year.
Contact MindWorks today

and lift your results.


Call:

02 9299 3300 or

Email:

hello@mindworksmc.com.au