Data Cleaning, Direct Mail, Teleprospecting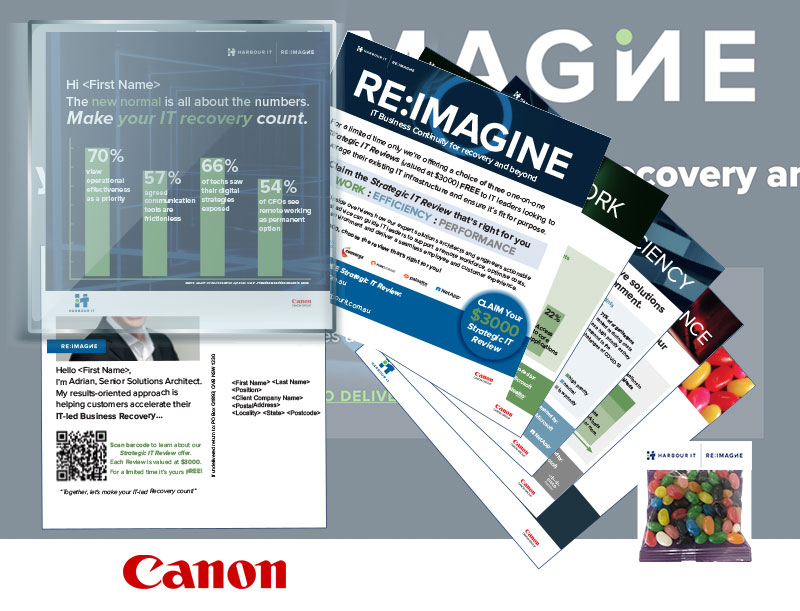 Proven Strategy
The IT industry was going through rapid changes as COVID-19 saw staff out-of-office and working remotely virtually overnight. Canon's partner, Harbour IT, offered business 'just the right' managed services; needed to survive. MindWorks developed a headline that captured the industry and societies mood 'The new normal is all about the numbers. Make your IT Recovery count.' Tasked to grow awareness of their existing REIMAGINE online offer - free IT audits - and drive more B2B appointments MindWorks created a cut-through 3D Direct Mail pack.
Customer Pathway
The current 'client list' was cleaned by MindWorks to add postal and telephone (for inhouse TM Propsecting). The 3D Direct Mail cut-through pack targetted client contacts aiming to reinforce key 'offer' benefits - a choice of three free IT advisory workshops. TeleProspecting manged by Canon followed up the DM Pack.
Improved Results
Many IT staff were working remotely so there was limited opportunity to reach individuals however some appointments were generated and overall awareness of the offer grew.
Contact MindWorks today

and lift your results.


Call:

02 9299 3300 or

Email:

hello@mindworksmc.com.au