MindWorks 'end-to-end' Multichannel Direct Marketing service includes:
Full Service Creative Agency, Planning, Strategy, Campaign Management and Analysis, Digital Marketing, Direct Mail Marketing, Direct B2B Sales Team Support, Direct Response Advertising, Data - Lead Generation list
Our lead generation process MindStage - measurably drives leads along a Customer Conversion Pathway delivering more certainty to marketers looking to Generate More Leads, Increase Customer Spend, Grow Brand Awareness and Lower Marketing Costs.
MindStage is executed through a four-step methodology which combines:

Intelligent Data
Identify best customer
Create prospect List Profile
Improve list selection
Reduce costs and marketing resource wastage

Relevant and Engaging Creative
Identify the key reason why customers will buy
Extract a Single Minded Proposition
Develop a winning Creative Idea
Use measurable creative to continually lift results

Customer Conversion Pathway
Convert more leads to sales
Smooth the customer pathway
Initiate relevant call-to-actions
Drive with trigger responses

Implementation & Delivery
Choose from:
'End-to-end' Multichannel service
Add-on Social Media service
Add-on Google AdWords service
Add-on SEO service

Step 1: Turning a list into a Intelligent Data
Creating Intelligent Data initial starts with MindWorks conduting a data audit to identify current best-customer profile from which a prospect List Profile Selection Criteria emerges.
With access to over 11million consumers and 230,000 key B2B decision-makers in A&NZ our expertise allows marketers to clean, verify and add to existing lists or create a new list from Lifestyle, Geodemographic, Subscriber and Mail Order lists. Gain deeper insights through segmentation using a multitude of segmentation criteria including age, income, lifestyle attributes, purchase history and much more … Lead generating lists > >

Step 2: Engaging and Relevant creative that's measurable
MindWorks innovative creative development tool MindSearch® delivers cut-through creative which is relevant and engaging because it distills customer insights, aligns these insights to the Brands' benefits finally identifying the single most important proposition that will influence the customer to buy.
MindWorks conceptualised Creative Idea emerges ensuring all direct marketing tactics drive response through a consistent customer experience.

Step 3: Smooth the customer pathway and increase conversion
MindWorks assists marketing teams map the multiple touch-points that the customers experience as they move along the MindStage process to ensure the right metrics are captured and results are accurately measured. Identifying each touch-point experience and subsequent customer behaviour helps development of strong call-to-actions, automated trigger responses and expedites the continuation of the customers journey to conversion.

Step 4: Campaign Implementation and end-to-end Delivery
Deploying MindStage® - our proven lead generation and lead nurturing process adds structure and discipline ensuring the right metrics are captured and results are accurately measured along the customer pathway to conversion.
MindWorks full service in-house creative team are dedicated practitioners of direct marketing. MindWorks offer small-to-medium marketing teams a choice of four direct marketing services from one specialist agency partner: Multichannel (Data, Digital, Direct, Social) service or Single 'Add-on' (Social Media, Google AdWords and SEO) services.
MindWorks campaign management includes 'result capture' and 'monthly reports' to ensure marketing teams have a 360º view of campaign results from clicks to impressions, from opens to bounces, from reply paid mail to spikes in web-traffic* supporting future campaign strategy decisions and more accurately forecasting results.
Read More Campaign Case Studies
Download a free guide to find out more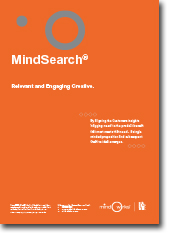 MindSearch - Relevant and Engaging Creative
MindSearch process aligns customer insights 'nagging need' to a product benefit that most meets that need - from which a single minded proposition and subsequent creative idea emerge.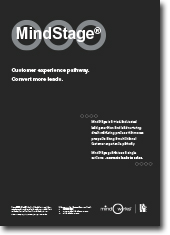 MindStage - Customer Conversion Pathway
MindStage® is a proven Multichannel lead generation and lead nurturing direct marketing process that builds Intelligent Data, engages prospects with relevant Creative and moves them along a Customer Pathway to conversion.

Contact MindWorks to lift your Multichannel Direct Marketing results.
Call 02 9299 3300 or Email: camerons@mindworksmc.com.au
* If MindWorks has access to Google Analytics